The CWM project will digitise photographic and oral history (audio, video) material contained within the University of Wales' South Wales Coalfield Collection. These materials cover a wide range of themes relating to mining in South Wales. Themes will include:
The impact of the coal industry on the Valleys
Mining techniques
The dangers of mining
Political issues
The rise of the Labour Party
The growth of a "Coal Society"
Leisure, culture and sport
Education
Home, childhood and family life
Women's experiences
Religion
Language
Worker migration
The Coalfield at war
Post - 1947
The "mission" of the project is to improve lifelong learning opportunities by stimulating and maintaining interest in the local history and cultural heritage of South Wales. This will be achieved by creating digitised images of original material relating to the history and development of the South Wales Coalfield, facilitating access to this material via the Web, and promoting and developing it as a learning resource. Mr. Alexander Roberts is the project manager and he is based at Library and Information Services at the University of Wales Swansea. Contact the project by email at archives@swan.ac.uk or by telephone on 01792 295021.
Director: Sara Marsh
Project Manager: Alexander Roberts
Education Consultant: Alan Kelly
Archivists: Elisabeth Bennett, Julie Anderson
Librarian: Sian Williams
Project Team
Justine Dolan (Digitisation)
Wendy Sheridan (Digitisation and Rights Management)
Sue Thomas (Digitisation and Research)
Jo Waller (Indexing and Quality Assurance)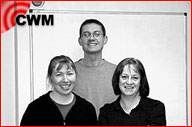 Coalfield Web Materials Project Team (March 2002)
(Justine Dolan, Alexander Roberts, Wendy Sheridan)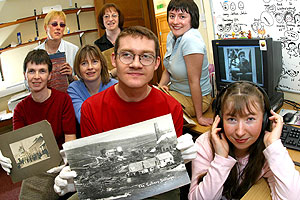 Photo as appeared in the South Wales Evening Post 13 March 2003 - Coalfield Web Materials Project Team. Left to right - Elisabeth Bennett, Jo Waller, Sian Williams, Wendy Sheridan, Alexander Roberts, Julie Anderson, Justine Dolan
The CWM project also proposes to create thematic links between mining in South Wales and slate quarrying in North Wales in partnership with the Llechwefan/Slatesite project.

The Llechwefan/Slatesite project is being created by a partnership including Gwynedd Council's Archives Service, the Welsh Slate Museum (National Museums and Galleries of Wales), Cynefin Environmental Ltd., Faenol Cyf., and Howard Bowcott (sculptor).